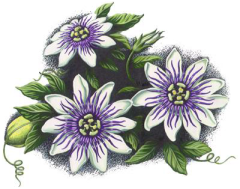 Passiflora Celtic Tapestries are made of washable cotton that remains brilliant over time. All tapestries $42 unless otherwise noted.
Please contact us for availability.

A note to our valued customers:
The tapestries shown on this website are authentic from the designers. They are not reprints, copies or
secondhand product.
All images used by permission.
Wash in cold water.
Most are approximately
80" x 95" unless otherwise noted.